Beeswax crayons offer a more natural alternative to traditional paraffin-based crayons. Crayons made with beeswax are long lasting and durable, and the natural transparency of the beeswax reveals rich and vibrant colors as the crayons glide buttery-smooth over paper. They smell good, too!
Petroleum-Based Crayons Are Probably Safe, But…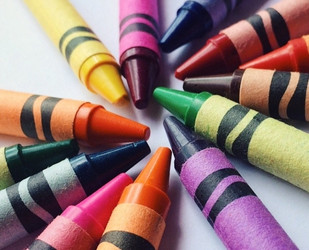 Crayons have long been a favorite of children. Whether they are transforming the pasty-white pages of a coloring book into life-like (or not!) images, or letting their imaginations run rampant with their own free-form creations on a blank page, children LOVE to color!
And coloring is a wonderful pastime for children; it's far from just mindless fun. Coloring helps to solidify their understanding of the natural world, provides a creative outlet for their imaginations, and even helps to fine-tune the development of their motor skills.
Paraffin Derived From Petroleum
But most crayons are made primarily from paraffin, which is derived from petroleum. In fact, the most popular brand of crayons, Crayola crayons, is made "primarily from paraffin wax and color pigment." (Crayola chooses not to reveal the exact ingredients of their crayons due to the proprietary nature of their product.)
Petroleum-based crayons most likely safe, but not so great for the environment as they can take years and even decade to decompose. If you'd like an alternative for your child, consider beeswax crayons. You can buy crayons here that are made primarily with beeswax, or you might want to try making crayons yourself.
How to Make Crayons From Beeswax (DIY)
Below is a great video showing you step by step how to make your own beeswax block crayons like Stockmar for a fraction of the price.
Supplies you will need:
Beeswax (pellets or grate down a block)
Soap (pure, non fragrance)
Coconut Oil (or Olive or Vegetable Oil) – used to stop the foil from sticking to the wax crayons)
Foil
Food Coloring (gel seems to have better pigmentation)
Sauce pan, glass dish to fit inside pan and something to stir it with (silicone won't absorb the wax)
But before writing this page, I spent quite a bit of time researching the making of homemade crayons with beeswax, and the process is pretty simple.
You just combine equal parts of melted beeswax and soap (grated or flakes – glycerin soap might make for harder crayons), and then color the mix with artist's pigment or – a safer alternative for children – concentrated food coloring. Paste food coloring will probably work better than liquid food coloring.
Double Boiler
Beeswax is very flammable, so be careful when you're melting it. It's best to use a double boiler for melting beeswax.
Using a double boiler provides even heating while avoiding the isolated hot spots that could reach the point of flammability. And using a double boiler also limits the maximum heat to the boiling temperature of water (You won't need it that hot to melt your beeswax, though. Beeswax melts at about 150 degrees F.).
Use An Old Pan
I'd recommend using an old pan for melting the beeswax, because it will be very difficult to get all of the beeswax cleaned off after you're finished. Alternatively, melt the beeswax in a clean can placed in a pot of boiling water.
Once the beeswax is melted, add the soap, stir until the soap is melted, add the coloring, and then pour into molds.
Molds
You can use candy molds, soap molds, ice cube trays – whatever type of mold you desire. Or you can fashion homemade molds using aluminum foil. Lubricate the molds with an oil of some sort, like olive oil, so that the crayons will release cleanly from the molds.
Alternative ingredients for making beeswax crayons: 2 parts beeswax, 1 part talcum powder, coloring.
If you'll need to buy beeswax for making homemade crayons, you might want to read some tips for buying beeswax.
Stockmar Crayons
If you're not the crafty sort (or would just rather not bother), you can purchase beeswax crayons from Stockmar rather than make them. Stockmar is dedicated to producing non-toxic products, and their beeswax crayons are very popular.
All of the ingredients that go into their crayons are tested for the following contaminants (click here if you'd like to read more about their testing program):
Pesticide residues (unfortunately, it is possible for beeswax to contain pesticide residues, depending upon the source)
Heavy metals
Polychlorinated biphenyls
Aromatic amine compounds
Polycyclic aromatic hydrocarbons
Be aware, though, that Stockmar crayons do contain 10% paraffin. I contacted the company to verify this, and was told that the small amount of paraffin is necessary to prevent stickiness in the crayons (a problem you might have with the homemade crayons).
Stockmar crayons are available in both block and stick form. As an aside, another great beeswax-based product for kids is Stockmar's modeling beeswax.
Beeswax Crayons Are Safe And Eco-Friendly
Coloring is an age-old activity whether you make 'em or buy 'em, beeswax crayons might be the very best way for your kids to enjoy the delightful childhood activity of coloring.
They're great for adult artists, too!