Have you considered making homemade soap with beeswax? If you've looked at a package of soap lately and read the ingredients in soap, you just might be inspired to make your own soap. There are several step by step videos at the bottom of this page to get your started.
What's in Soap?
Pick up a package of soap and read the ingredients.
You'll likely find that it contains chemicals such as pentasodium pentatate, pentaerythrityl tetra-di-t-butyl hydroxyhydrocinnamate, titanium dioxide, D&C; Green No. 8, and FD&C; Green No. 3.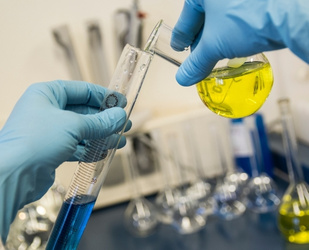 Those are just some of the ingredients listed on the soap that's in my bathroom cabinet. I don't know what all of those ingredients are. In fact, I can't even pronounce some of them.
And I don't know what those ingredients do, either. They might be perfectly safe. But the "I don't know" part bothers me a bit. And I don't think I'm alone in that.
Natural Alternatives
More and more people are looking for simpler, more natural alternatives in the items that we use everyday and in the foods that we consume.
More and more people are interested in making their own ________ or growing their own ________ (fill in the blanks) because the "I don't know" part bothers them, too. If you're in that group, then making your own soap with beeswax (or even without) might interest you.
Because What's In Your Soap Could End Up In You…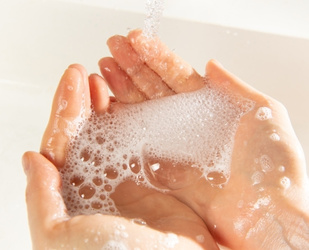 There's certainly good reason to be concerned about whether the ingredients in soap are safe.
After all, soap is a product that we are exposed to multiple times every day (well, most of us, anyway!) And many chemicals are readily absorbed by the skin.
I once read an article about the dangers of water-borne chemicals (chlorine, fluoride, etc.). One expert was quoted as saying that if he were forced to make a choice between drinking a mild poison or bathing in it, he'd choose to drink it.
He believed that his body would absorb more of the poison by bathing in it than by drinking it. I don't know how accurate that is (and I think I'd have trouble making the same choice!), but undoubtedly the skin is a poor barrier to certain chemicals.
Dermal Patches Work Through Skin
Dermal patches for nicotine and other drugs would not work, obviously, if it were not possible for chemicals to be absorbed through the skin and into the bloodstream.
If you choose to make your own soap, at least you'll have control over the chemicals that come in contact with your skin multiple times every day through the process of bathing and washing.
homemade soap
The Advantages of Making Homemade Soap With Beeswax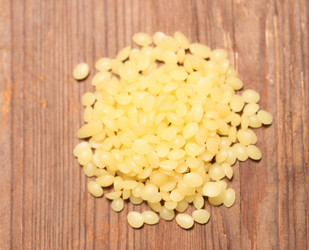 You don't have to use beeswax when making homemade soap, of course. But it does offer several benefits.
Beeswax helps to make bar soap harder and less crumbly. Beeswax is also particularly good for dry skin, since it helps to hold in moisture.
And beeswax lends a natural, delicate floral scent to the soap without relying on artificial fragrances.
Want to Try Making Homemade Soap?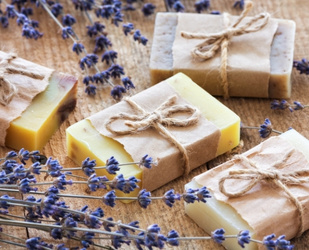 Making homemade soap is a bit more complicated than just tossing a few ingredients together.
When you make your own soap you'll be using lye as an ingredient, which can be dangerous if not handled properly.
The easiest way to get started is with a soap-making kit. These kits provide all the ingredients you'll need for making soap, along with complete instructions:
Good luck!
Ought to be good, clean fun. (Sorry…couldn't resist!)
DIY Beeswax Soap Videos
Here are some of the best videos I found that show you step by step how to make your own DIY beeswax soap.
Video #1 (ingredient list below)
Ingredients Used:
Oils (coconut, palm oil, castor oil)
Beeswax (pellets)
Honey
Lye
Fragrance Oil (Nurture Soap: Oatmeal Milk and Honey)
Water
Video 2 (ingredient list below)
Ingredients:
Fat or oil (olive oil, fractionated coconut oil, palm oil)
Lye – Sodium hydroxide (dangerous, don't recommending using it with children)
Beeswax
Lemon oil (or the scent you like)
Supplies:
3 plastic containers
Large plastic mixing bowl
Plastic or silicone spatulas
Whisk (not alumium)
Silicone mold
Scale
Video #3
Ingredients:
Goats milk
Honey
Beeswax
Sodium Lactate (probably not necessary)
Honey blend fragrance
Olive Oil
Video #4
You probably don't want to try this if it is your first time making beeswax soap.
Ingredients:
Beeswax pellets (yellow)
Bramble Berry raw honey comb fragrance
Bee pollen powder
Mixture of butters
Lye
Borage il
Olive oil
cocoa butter
Coconut oil
Shea butter
Distilled water
Cornflower petals