Manuka honey is the best honey in the world. It is the gold standard for which all other honey is compared. It is a delicious superfood with so many health benefits and has a distinct, complex flavour and rich aroma, unlike any other honey.
To learn more about Manuka honey and why you should be eating and using it click here. If you already understand why it's so amazing and just want to get your hands on some then here are the best brands of Manuka Honey
Top 10 Best Manuka Honey Brands
With so many options on the market it can be hard to find the right honey. That's why I have put together this list of the best Manuka honey so you can ensure you buy high quality honey.
1. Wedderspoon Raw Premium Manuka Honey K16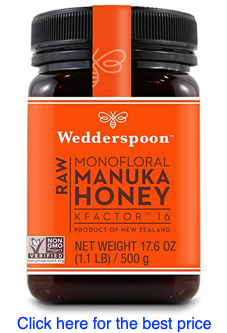 Wedderspoon offers the purest and highest quality Manuka honey. It is raw, unpasteurized, monofloral (meaning the bees only collect nectar from the Manuka bush – no other flowers) , and traceable right to the master beekeeper that harvested and tended the hive.
This company's pledge is that your jar of honey is as close to freshly harvested perfection as possible, loaded with living enzymes, vitamins, and complex chemical compounds.
Honey with a UMF rating of 16 and up is considered superior quality with high therapeutic properties, and Wedderspoon's is a ranking of KFactor 16.
This means it is effective against a wide range of resistant bacteria and should be consumed in small quantities (less than a tablespoon at a time).
It is produced using a raw creaming process to maintain all naturally-occurring and beneficial properties and is verified non-GMO. 

Wedderspoon also makes Manuka honey drop lozenges, digestive and immune gummies, and apple cider vinegar. Click here to find the best price.
2. Manuka Health MGO400+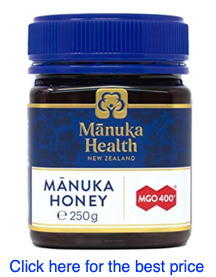 High grade pure Manuka Health MGO400+ Manuka Honey contains a minimum of 400mg/kg of methylglyoxal, an incredible antibacterial active compound that makes it superior to any other honey. This is the equivalent of a UMF rating of 13+.
Fully traceable from beehive to your jar, Manuka Health products are certified MGO and UMF members, and undergo independent quality testing in an ISO17025 accredited laboratory to ensure purity, quality, and safety.
Your packaging comes with a QR code that gives you your jar's birth certificate to verify its authenticity and learn more about its batch number, manufacturing date, and origins.
Manuka Health brand is also available in different potencies from MGO 30+, MGO 250+, up to to a strength of MGO 550+. Click here to find the best price.
3. Kiva Raw Manuka Honey UMF 15+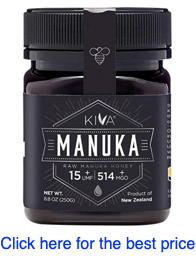 Kiva's Manuka honey has a certified UMF rating of 15+ equivalent to an MGO rating of 515+, giving it amazing healing properties.
Kiva is a member of the UMF Honey Association, meaning each monofloral batch is independently tested and rated. It also means they meet strict criteria for licensing, monitoring, and auditing the honey quality.
Their packaging also comes with a QR code allowing you to trace your jar back to its individual batch and origins.
Kiva has several different potencies available for purchase from a UMF10+ for daily on the day wellness to a UMF20+ ultra support.
This brand also has a UMF24+, equivalent to MGO 112+ Maluka Honey which is the highest potency I have come across. It is exceptionally rare, incredibly high potency and has a limited reserve. Click here to find the best price.
More About This Honey
This thick, dark honey is produced by bees that pollinate the flowers of the Manuka Tree (Leptospermum scoparium) in New Zealand. The only place in the world that this honey is found.
HEALTH BENEFITS"Rich in amino acids, Vitamins B & C, antioxidants, minerals, proteins, carbohydrates, and bioactive compounds,"
"No other honey has the volume or complexity of natural components at work like New Zealand mānuka honey"